Media serves as the eyes of the people; do not blindfold the people!

By Mohammad Amin Wahidi
with editorial assistance from Nathan Hartle and Robert Maier
I write this because I no longer want to keep quiet about threats, violence and intimidation practiced against journalists in Afghanistan. We Afghans have a proverb that says, "Keep quiet until the knife reaches the bone." The knife has reached my bone; I no longer want to conceal the censorship that journalists and media activists face in Afghanistan.
I was a victim of these threats when I worked at Ariana Television Network in Kabul. I left my job as a program host and producer in 2005, keeping quiet about the intimidation but working behind-the-scenes to promote freedom of speech in the media.

The free press is as necessary as oxygen for the suffering people of my land. It is their civic right to be informed. Reports show that the number of threats and attacks on media activists in Afghanistan has grown annually since 2005. Below is an overview of threats and violence against members of the media in Afghanistan.

Arrests of Journalists
Kamran Meerhazar journalist and editor in chief of
www.KabulPress.org
a controversial socio- political website who was arrested by CID Afghanistan
( photo from
www.kabulpress.org
)
One such action was the recent arrest and imprisonment of blogger Kamran Meerhazar by the Central Intelligence Department of Afghanistan. Though released after five days, Meerhazar has since received death threats by email. Prior to this, a journalist named Asif Nang was arrested by the Central Intelligence Department and accused of being the agent of a foreign government. Also, filmmaker Waheed Nazeer has received anonymous threats by email after screening his war documentary "My Kabul."
A few months ago after broadcasting Afghanistan Attorney General's interview, Tolo TV was surrounded by some two hundred policemen ordered by the Attorney General for why they have misinterpreted his interview. They arrested some of Tolo TV Senior Staff including broadcast director for some hours and then released after beating them up. Later on there were many public objections by the people to this misbehavior of Attorney General.
Murders of Journalists
Zakia Zaki a female radio journalist killed in June 06 2007 in Parwan Province
( photo from
www.dawn.com
)
Zakia Zaki's death body mourned by her famlity members and relatives ( photo from img.dailymail.co.uk)
Recent deadly incidents include the murders of female radio journalist Zakia Zaki in Parwan Province on June 6 2007, and Shamshad TV anchor Shekiba Sanga Amaj at her home May 31, 2007. In both cases the perpetrators are unknown.
Shekaiba Sanga Amaj Anchor for Shamshad TV who was shot by gun at her home ( photo from BBC persian)
Another journalist, Ajmal Naqshbandi, originally kidnapped along with Italian journalist Daniele Mastrogiacomo, was killed by the Taliban on April 8, 2007 after 40 days in captivity. Mastrogiacomo was released after the Afghan government released two Taliban prisoners under pressure from the Italian and possibly the US governments. The Afghan government refused to negotiate with the Taliban on behalf of the Afghan journalist.

Ajmal Naqshbadni, Afghan journalist, killed by the Taliban after 45 days in hostage ( photo from http://www.lcn.canoe.com/)
The statistics and the reports show that the serious threats and attacks on media activists in Afghanistan are increasingly growing annually since 2005.


Journalists Imprisoned
( photo from www.coj.org)
Ali Mohaqiq Nasab, a writer and secular clergyman, was sentenced to two years in prison in Oct 2005 for his writings about Islamic theory.
Meer Hossain Mahdavi, another print journalist, was condemned to death for his article "The Holy Fascists." The article was an overview of the Islamic Empire from its origins to the present.. Mahdavi was released after international media organizations pressured government officials.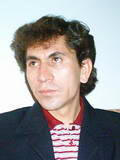 Meer Hussain Mahdavi the pioneer victim of censorship and presure on media in Afghanistan ( photo by www.kabulnath.de)

Threats and Violence Against Afghan Media Workers
Media and media activists, seeking acceptance as the fourth pillar of the emerging democracy in Afghanistan, are instead being suppressed by pressure from both the government and armed anti-government groups. Bullying currently being directed at the Afghan media has many causes. Five dark years of Taliban rule weakened the role of women in all areas of society.
For three years various injustices have been committed against members of the media, beginning with the case of Meer Hussain Mahdawi. Then, there was the May 18, 2005 killing of television anchor Shaima Rezayee, who was the first modern female TV anchor for music shows in Afghanistan.



Shaima Rezayee the first woman TV anchor victim who worked for Tolo and was assassinated in Kabul

Extremists and fundamentalists, fearing the influence of Western culture on traditional Islamic values, have reacted against the media outlets they perceive to be sources of Western propaganda.

Tolo TV the leading private television channel in Afghanistan

Threats of violence have led two television video jockeys, Shekaib Isar and Jamshid Matin, to flee the country. Their modern style included bright clothing and different haircuts, having fun and making jokes on camera. Their cheerful personas and popularity with the youth made them a target of conservative Islamists, who feared any Western influence. They fled Afghanistan, but hold a special place in the hearts of many as pioneers of the free media in Afghanistan.

Shekaib Isar, video jockey for Tolo TV, who fled the country after being threatened

Jamshid Matin, video jockey for ATN in Kabul, who fled Afghanistan under threats. (Photo from http://www.artincommunity.org/) ( photo from http://www.artincommunity.org/)

Afghan media transitioned from a tool and propaganda machine for the newly formed national government to an institution willing to challenge that government. Following the example of the Western media, Afghan journalists sought to expose corruption in the system and administration of the government. Their new direction and openness to Western influence made them enemies inside and outside the government.
However, as the new independent TV and radio programs rapidly grew in popularity, Some of Afghanistan's leaders felt threatened by the freely-speaking media and began to force limitations upon it—with laws and beyond the laws through secret threats and anonymous violence. They thought maybe their power would be diminished. They wanted to be the primary power, because they benefited from an uninformed population.
Not only the executive branch of the government, but sometimes the parliament also had misbehaviors against the journalists.
Since Zang-e Khatar (danger alarm) a popular satire show on Tolo TV broadcasted some videos of MPs sleeping in plenary session of the parliament, it increased the anger of the legislatures thereafter some of the journalists were beaten up by the MPs body guards and or Parliamentary security forces.




Afghan media have also served as propagandists and publicity outlets for armed opposition groups and terrorists. Since 2005, almost every television and radio station in the country has allocated airtime to coverage of Taliban attacks. This coverage has empowered the Taliban and damaged the public's confidence in the strength of their government.
While the number of media outlets in the country is increasing, the government does not promise them safety. Journalists and other members of Afghanistan's media have struggled and gained experience through five years of ups and downs.
This is where the real work begins for the Afghan media, if they dare to step forward firmly and without fear. They are the eyes of the people, and the people know this. Hopefully one day the government and antigovernment groups will come to know it as well.
It is urgent that journalists and governments around the world know the truth about the dangerous situation of young Afghan media workers, and speak out on their behalf.